Welcome to the homepage of Simon-Trans Kft!
Let me introduce our company's profile briefly as follows!
We founded our company engaged in transport of goods and supporting services in 2001. Our office can be found in a modern logistics centre in Vép, Vas county, in the vicinity of the Austro- Hungarian border.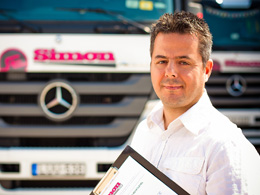 Our current major activities are international road transport of goods primarily related to air freight and marine transport organized by global pharmaceutics, and automotive manufacturing companies and multinational companies.
We perform the transport tasks mainly with our own 1-24 tons fleet – however, as a result of the continuously increasing demands of our clients we work with numerous qualified subcontractors so our fleet is completed with more than 200 trucks.
Our drivers have DID card.
The trucks controlled by our freight organization team have completed more than five thousand normal and several tempered and express transport tasks in 2015. – Beyond Hungary – our trucks run in numerous European Union countries, mainly in the areas of Austria, Germany, France, Spain, Portugal, England, and the Benelux States, and Scandinavia.
Our shipments are insured by Wáberer and Lutz insurance company up to the value of 1.200,000.- EUR, and unlike general practice we also have a special insurance on pharmaceutical products covered in a value of 30 SDR per kilogram.
Since production of various parts is more and more shifted to the east, we think Hungary plays a significant role in the field of forwarding and other logistic services which are available in our premises for all of our partners.
Our main objective is to be always prepared for satisfying the continuously changing demands therefore our company makes numerous efforts for innovation and environmental protection.
Simon Trans Ltd. pays attention to the conservation of condition of the environment therefore we work only with subcontractors whose feet, similarly to us, meets the relevant environmental regulations and are subject to proper maintenance regularly.
Our company always adapts itself to the new demands arising in the field of transport but cultivates its traditionally good relations under all circumstances so we rightly included the following three concepts in our motto:
"Accuracy, reliability, conservation of value".
Within the framework of our corporate social responsibility we strive to support foundations helping disadvantaged and starving children and those with social needs.
You can find further useful information on our website. If you are interested in any of our services please contact us.
Yours sincerely:
Miklós Simon
Managing Director